Colonial Seed Research Nursery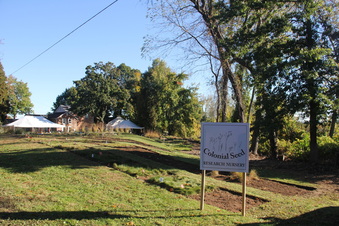 Colonial Seed takes great pride in the research put into every quality seed blend and product we present onto the market. Many Native Plug species and Seed Mixes have been grown and evaluated on-site to bring about the optimum product for our many satisfied clients. Research is an integral part of the Colonial Seed Company, as the Native Plant market is changing everyday. Below some of the current research Colonial Seed's taking part in can be viewed for your education,

We Sincerely Thank for your interest in the Colonial Seed Company.


---
{ A quick video of our Research Farm }


During Colonial Seed's Field Day, a vote was taken on which plots were favored by a panel of industry experts present at the event.

The Seeding date was Sept. of 2012, and a mowing was done in both April and May of 2013.

The Below heights represent in Box 1 the date of Oct 11, 2013, and in Box 2 the date was Nov. 19, 2013

.

Rank


Mix Elements


6 Grams Little Bighorn + 4 Grams Coastal Hairgrass

1.5 Grams Agrostis Perrenans + 5 Grams Coastal Hairgrass

5 Grams Roemers + 5 Grams Little Bighorn + 5 Grams Aurora Gold

3 Grams Little Bighorn + 3 Grams Coastal Hairgrass

4 grams Coastal Hairgrass +

3 Grams Coastal Goldenrod + 3 Grams Little Bighorn

6 Grams Little Bighorn + 4 Grams Coastal Hairgrass

7 Grams Coastal Hairgrass @ 20 lbs. / Acre

2 Grams Agrostis Hyemalis

+ Agrostis Perrenans

Height 10/11/13


5.7"

2.4"

7.8"

4.6"

3.5"

2.4"

7.8"

3.5

Height 11/19/13